The jiraffe Threads Lifestyle
Represent a strong and positive motivational energy with us:
"Stand Tall. Stay Unique. Adapt + Achieve."
Be inspired to do great things for yourself and others. Let's go!
Helping to Save Giraffes
Did you know that giraffe are already extinct in 7 African countries and there are an estimated 111,000 giraffe remaining in the wild? We can not imagine the thought of losing the worlds tallest and majestic animal.
To help out, we donate 10% of profits to the Giraffe Conservation Foundation. We adopted a giraffe named Kunene through the Giraffe Conservation Foundation to help support their extensive Giraffe conservation work in Africa.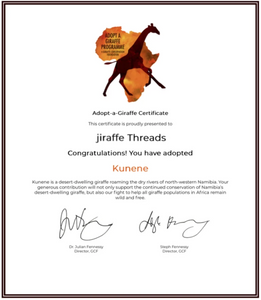 Kunene
We adopted Kunene in 2019 and continue to contribute funds to the Giraffe Conservation Foundation towards their Giraffe conservation efforts for wild Giraffes in Africa.